Synchronome manufactured a special version of their clocks for use in power stations. These nearly always have their cases (mostly the later round cornered variety) painted gloss black with chromed catches on the side. In addition to these black cased power station models, I understand that similar specification clocks were manufactured in metal cases for the London Underground.
A variation that is sometimes found is a nickel plated movement, this gives it a grey appearance.
The extra specification of these clocks usually includes a 30 minute (half hour) output pulse and also sometimes a one second output (which also allows for a seconds hand on the pilot dial). The reason for the 30 minute pulse was that it was required for equipment that the power stations used for monitoring. The optional seconds output was achieved by having a toggle type contact mounted on an agate jewel that was operated on each swing.


Often a 'weight tray' was added on these versions as well. This can be seen half way down the pendulum rod. The object of the tray is for it to take very small weights that are used to raise the centre of gravity of the pendulum. Synchronome claimed that a 0.6 gram weight added to the weight tray will cause a gain of 1 second a day: see my page on rating the clock. Click Here
The rest of the movement on these models is the same as a standard model.

The case of my own power station example was made of mahogany before being covered in the thick glossy black paint and varnish that they used. Why Synchronome used expensive mahogany when the case was destined to be painted though, I do not know.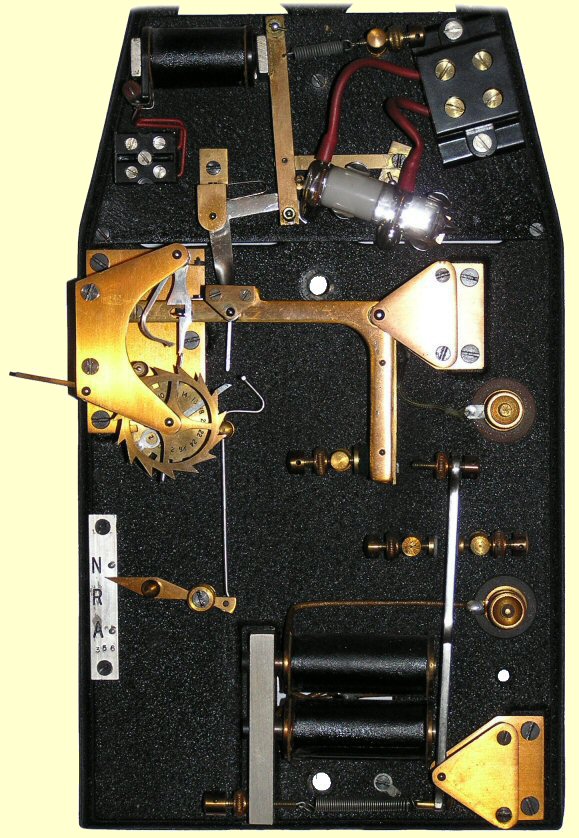 The movement shown in the above pictures is a Mk2 type. This has much larger brass plates for holding the components in place and is easily distinguished from the Mk1 type which were manufactured up until the early 1960's.
The left hand movement below is an earlier version of a Mk 1 as it has green silk covered magnet coils. The later Mk1's (1945 approx' to early 1960's) and all Mk2's (1960's onwards) usually have a black plastic covering to their magnets.

Besides the larger brass plates, later Mk2's (to that shown below) had a plastic terminal block for the connection in the bottom right hand corner. Also the vertical armature of the magnets lost its elegant shaping and became just a uniform width vertical bar.


In the comparison picture below, the left hand movement is a Mk1 whilst the right hand is a later Mk2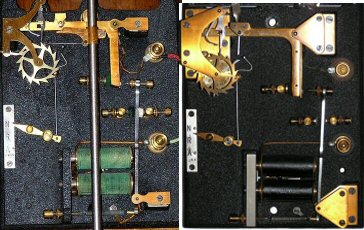 Goto Page Two for Detail of its Operation
Original Synchronome Literature and Instructions
Pilot Dial Contacts